Play Now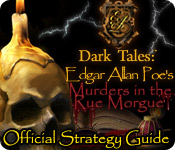 Free Download
100% Safe / No Adware or Spyware! Play free trial offline whenever you like.

Dark Tales: Edgar Allan Poe's Murders in the Rue Morgue Strategy Guide
(Released 2010-01-01)
Category:
Hidden Object
Game Description:
A dreadful murder and kidnapping has occurred in the Rue Morgue and only you can solve the dark crime! Use our Strategy Guide to find the killer and the missing family. Become the apprentice of the famed C. Auguste Dupin and solve the devious puzzles to find the hidden clues. Based on Edgar Allan Poe's most acclaimed murder mystery, Dark Tales: Edgar Allan Poe's Murder in the Rue Morgue is a fantastic Hidden Object game full of suspense and excitement.
Helpful screenshots
Terrific tips
Discover the killer!
Screenshots (click to view)


Download Related Games You'll Like